Homère:
Son vie, ses poèmes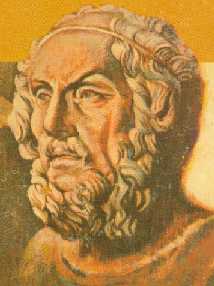 Homère etait un fameux poete grec, qui vivait au 12ieme siècle Av. JC, vers le temps de la guerre Trojan, chez Chios ou Smyrna. Il gagnait son vie comme un raconteur d'histoires et un chanteur. Il est credité d'écrire les deux poèmes epiques, L'Odyssey et L'Iliad. Cette page vais vous donner un résumé de la vie et les temps d'Homère, et ses oeuvres.
---
Homer, thy song men liken to the sea,
With every note of music in his tone,
With tides that wash the dim dominion
Of Hades, and light waves that laugh in glee
Around the isles enchanted: nay, to me
Thy verse seems as the River of source unknown
That glasses Egypt's temples overthrown,
In his sky-nurtur'd stream, eternally.
No wiser we than men of heretofore
To find thy mystic fountains guarded fast;
Enough--thy flood makes green our human shore
As Nilus, Egypt, rolling down his vast,
His fertile waters, murmuring evermore
Of gods dethroned, and empires of the Past.
-Andrew Lang-
---
Commentaires? Envoyez-nous un message:
Pam MacNeish: pam@moonman.com
Stephanie Hayden: moonie14@hotmail.com